Navigator, Explorer, Orion, & Trekker Designs by Hans Friedel
The following descriptions will help you to understand how we can provide kits or materials for canoes, kayaks, or rowing boats. If you have questions please call or e-mail us; we have assisted in many boatbuilding projects and can help you make intelligent choices in designs and materials. You do not have to purchase a complete kit: You can purchase any individual materials you need to assist in your boatbuilding project.
Read Bob Larkin's write up for a customer's viewpoint of the Hybrid Construction process.
The Hybrid Kayak Kit: Plan Sheets, Fiberglassing DVD, Hybrid Construction Notes by Michael Vermouth, CNC cut 4 mm Okoume plywood hull panels with pre-drilled wire holes, beveled plywood panels, and locking butt joints, pre-cut plywood bulkheads, cove and bead cedar strips for the deck (50% red cedar, 50% white cedar), Deck forms with exclusive Ladder LOC (TM) Strongback, 1-1/2 gal Epoxy, rolled Fiberglass, epoxy application supplies, silica, phenolic microballoons for your end pour, wire, Newfound Custom seat, Sonic backband, Deckline hardware (with KajakSport deck fittings), hatch hardware and seal, hatch lip material, plywood build-up and coaming lip, adjustable footbraces, and foot rest studs.
Check the Kayak Accessories to see if you would like a KajakSport seat, rudder, cockpit cover, or spray skirt.
You can also customize the amount and type of strips that we provide. We have Western Red Cedar, Northern White Cedar, and Alaskan Yellow Cedar. Note that we mill all of our strips at our facility in Bristol from AIR DRIED cedar.
What is different and better about our plywood kits?
Our plywood panels are provided with key-lock butt joints, the inner panel edges are beveled, and all of the wire holes are pre-drilled for you! We also provide hull brackets so that your hull will be exactly the design shape. This means you gain accuracy and speed in the assembly process.
---
These kits now include sappele plywood!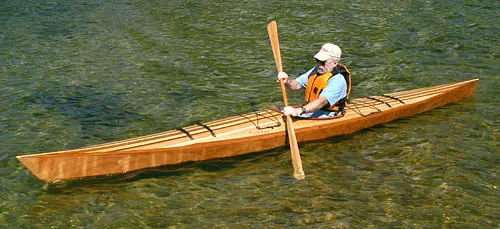 The Trekker is very similar to the Navigator in overall dimensions, but slightly longer and wider. The bow and stern…
Read More