Length
17' 2"
---
Beam
22"
---
Weight
38-44 lbs.
---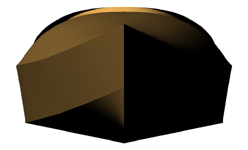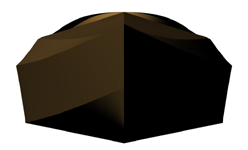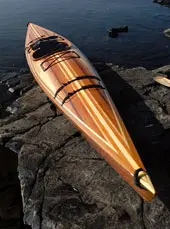 The Navigator is a fairly high volume, comfortable sea kayak. Its hard chined Greenland-type hull tracks very strongly in windy conditions and offers great stability at rest and while leaning. With its larger volume the Navigator lends itself to larger paddlers who may also want to carry gear on camping expeditions. It has a bit more V shape in the bottom than a typical American kayak, which decreases its sensitivity in the wind and waves. It also has enough storage space for day tripping and overnight camping.
This kayak will work nicely for 175-240 lb. paddlers on trips with gear or for 250-290 lb paddlers for day trips. Overall weight of the finished kayak will be 38-44 lbs.
Only available as KITS for Hybrid & Stitch-n-Glue kayaks. Construction from plans not available. (Yet.)
Read Bob Larkin's write up for a customer's viewpoint of the Hybrid Construction process.
---
What is the Hybrid Construction Method?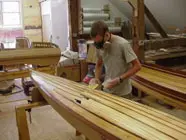 The hybrid construction method means that you are building a woodstrip deck and a plywood, stitch and glue hull. This method allows you to have the beauty of strips for the deck and the level of creativity that you can achieve using strips. The plywood hull lends itself nicely to the Greenland, hard chined design, can be assembled quickly and uses fewer parts. Therefore the Hybrid is less time consuming to construct and somewhat less expensive than an all woodstrip kayak.
---
What is the Stitch and Glue Construction Method?
This method uses panels of marine plywood, temporarily held together (stitched) with copper wire, glued with epoxy and fiberglassed to achieve various hull shapes. This type of construction has been used to build the simplest dinghies to large cabin cruisers. The shape of the panels of plywood determine the eventual shape of the boat. Marine CAD programs have allowed designers to produce very efficient, beautiful kayaks, using 4mm Okoume marine plywood to achieve amazing hull shapes.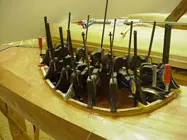 Hybrid stitch and glue hull pieces are supplied with a locking tab feature. This method allows for easy assembly and dead-on precision.
---
What is a Hybrid Kit?
The 4mm Okoume Plywood hull panels and bulkheads come with pre-drilled wire holes and key lock butt joints saving you valuable time and providing accuracy in the assembly process. You also receive cove and bead cedar strips for the deck, temporary forms, epoxy with application supplies, copper wire, deckline hardware, mini-cell seat foam, hatch hardware and seal, adjustable footbraces, fiberglass, and pre-cut plywood coaming ring and build-up.
Add a header to begin generating the table of contents