The following descriptions will help you to understand how we can provide kits or materials for canoes, kayaks, or rowing boats. If you have questions please call or e-mail us; we have assisted in many boatbuilding projects and can help you make intelligent choices in designs and materials. You do not have to purchase a complete kit: You can purchase any individual materials you need to assist in your boatbuilding project.
The Pre-Kit Rowing/Fishing Boat Package: Strip Building DVD, Newfound Woodworks' Fiberglassing DVD, and Woodstrip Rowing Craft by Susan Van Leuven. This package will give you all the information you need to plan your boat building project.
The Rowing/Fishing Boat Kit Includes: Plans, Stripbuilding Notes, Construction Notes specific to that design, a CD of rowboat construction pictures, Coved and beaded, 6′ to 10′ Northern White Cedar Strips, About 30% Full Length Western Red Cedar Strips, Solid pre-milled mahogany Outwales, Scuppered mahogany Inwales, Pre-Milled Seat Materials or finished seats, Stem Laminations, Spanish cedar Transom Materials, Deck Material with pre-laminated coaming, Fiberglass, Slow Curing, Non-Blushing, Low Viscosity Marine Epoxy, Epoxy Application Supplies, and Varnish.
Mold Forms for these boats are included in the kit prices below OR cost $350 when purchased separately (you will also need the plans for the details). These forms come with a clamping groove for stapleless construction.
If you want everything in a kit add the Pre-Kit cost to the Kit cost; call us or e-mail and we will quote shipping and packaging costs.
Check the Accessories page to see if you would like brass transom handles, oars, oarlocks, or oar sockets.
If you'd like to simply purchase plans, you can visit our Plans page.
If you would like to purchase a Pre-Kit, please click on the price under the Pre-Kit column. For purchasing a full Kit we request that you call us at (603) 744-6872. For any questions you may have, feel free to e-mail us at info@newfound.com.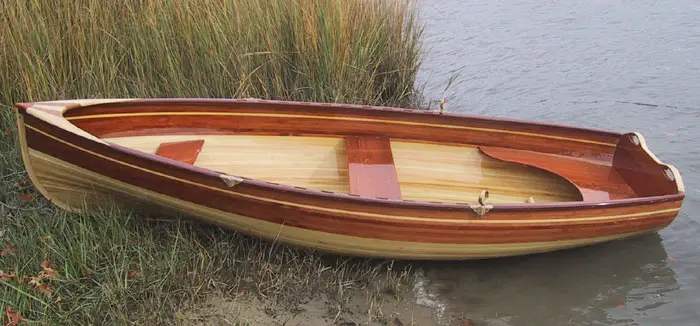 The Lawton Tender came about in response to a customer looking for a small yacht tender he could build with strips. The lines were taken directly from John Gardner's Building Classic Small Craft and modified for cedar-strip construction. Originally designed by Charles Lawton, renowned for his fine tenders and superlative craftsmanship, the tenders had to "row and tow well, be moderately good seaboats, carry heavy loads, yet shine like a piece of fine furniture." The Lawton Tender will complement the finest yacht or serve as classy little fishing boat.
Read More