The following descriptions will help you to understand how we can provide kits or materials for canoes, kayaks, or rowing boats. If you have questions please call or e-mail us; we have assisted in many boatbuilding projects and can help you make intelligent choices in designs and materials. You do not have to purchase a complete kit: You can purchase any individual materials you need to assist in your boatbuilding project.
The Pre-Kit Canoe Package contains: Strip Building DVD, Newfound Woodworks' Fiberglassing DVD, and The Illustrated Guide to Wood Strip Canoe Building by Susan Van Leuven. This package will give you all the information you need to plan your canoe project.
The Canoe Kit contains: Plan sheet and layout sheet, Stripbuilding Notes, and a CD of Construction Pictures. Coved and Beaded 6′ to 10′ Northern White Cedar Strips, About 30% Full Length Western Red Cedar Strips, Solid, pre-milled Ash Outwales, Scuppered Ash Inwales, Ash Thwart or Yoke, Natural Cane/Ash Seat(s), Ash Seat Hangers, Seat Hardware, Stem Laminations, Deck Material, Fiberglass, Slow Cure, Low Viscosity, Non-Blushing Epoxy, Epoxy Application Supplies, and Varnish. Mold Forms for canoes are NOW INCLUDED IN THE KIT PRICES BELOW. All mold forms now include Clamping Grooves for Stapleless Construction. If you want everything in a kit add the Pre-Kit cost to the Kit cost; call us or e-mail and we will quote shipping and packaging costs.
Mold Forms for canoes are $265-$350 depending on design when purchased by themselves (not with the kit).
Check the Canoe Accessories to see if you would like cherry seats and yoke, ash contour seats, or contour yoke. If you'd like to simply purchase plans, you can visit our Plans page. If you would like to purchase a Pre-Kit, please click on the price under the Pre-Kit column. For purchasing a full Kit we request that you call us at (603) 744-6872 for updated pricing. Since we don't assemble a kit until you order, you have the opportunity to change your materials list to suit your own needs. For any questions you may have, feel free to e-mail us at info@newfound.com.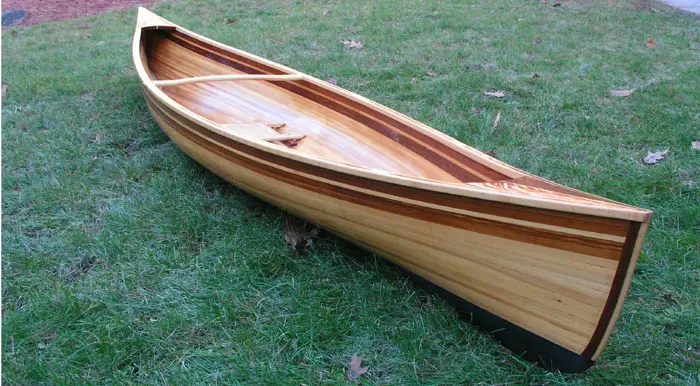 Mac McCarthy wrote Featherweight Boatbuilding in 1998 to assist others in the construction of the two designs most dear to him. He instructed at the Woodenboat School for many years, allowing many people the opportunity to build the canoe of their dreams under his watchful eye.
Read More