Length
17' 4"
---
Beam
24-3/8"
---
Weight
45 lbs
---
The Trekker is very similar to the Navigator in overall dimensions, but slightly longer and wider. The bow and stern are slightly raised and the Trekker has a little more rocker than the Navigator. Whereas the Navigator tracks very strongly, the Trekker will be more maneuverable. The Trekker is available as a hybrid kit only.
Paddlers around 180-290 lbs with gear should fit nicely into this kayak.
Only available as KITS for Hybrid & Stitch-n-Glue kayaks. Construction from plans not available. (Yet.)
---
What is the Hybrid Construction Method?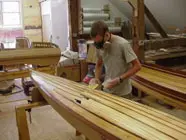 The hybrid construction method means that you are building a woodstrip deck and a plywood, stitch and glue hull. This method allows you to have the beauty of strips for the deck and the level of creativity that you can achieve using strips. The plywood hull lends itself nicely to the Greenland, hard chined design, can be assembled quickly and uses fewer parts. Therefore the Hybrid is less time consuming to construct and somewhat less expensive than an all woodstrip kayak.
What is a Hybrid Kit?

The 4mm Okoume Plywood hull panels and bulkheads come with pre-drilled wire holes and key lock butt joints saving you valuable time and providing accuracy in the assembly process. You also receive cove and bead cedar strips for the deck, temporary forms, epoxy with application supplies, copper wire, deckline hardware, mini-cell seat foam, hatch hardware and seal, adjustable footbraces, fiberglass, and pre-cut plywood coaming ring and build-up.
Add a header to begin generating the table of contents