The following descriptions will help you to understand how we can provide kits or materials for canoes, kayaks, or rowing boats. If you have questions please call or e-mail us; we have assisted in many boatbuilding projects and can help you make intelligent choices in designs and materials. You do not have to purchase a complete kit: You can purchase any individual materials you need to assist in your boatbuilding project.
The Pre-Kit Strip Kayak Package: Strip Building DVD, Fiberglassing DVD, and Kayakcraft by Ted Moores. This package will give you all the information you need to plan your strip kayak project.
The Strip Kayak Kit: Plans, a CD of strip kayak construction pictures, HIN number, Kayak Construction Notes, Mold forms and Ladder LOC (TM) Strongback system (Sea Wolf, Spirit, Excursion, Osprey), Cove and Beaded 6′ to 10′ Northern White Cedar Strips, About 30% Full Length Western Red Cedar Strips, Plywood Bulkheads, Stem Laminations and Sheer Clamps if appropriate to your design, Plywood Cockpit Coaming Ring, Plywood Hatch Lip Material, Adjustable Footbraces, Foot Rest Studs, Foam Kayak Seat, Backband, Fiberglass, DeckLines and Hardware, Hatch Hardware and Seal, Slow Curing, Non-Blushing, Low Viscosity Epoxy, Epoxy Application Supplies, and Varnish.
Note that our kits listed below also include some 1/2″ strips for accents, or in the case of the Outer Island designs, we include more 1/2″ strips to accommodate the tight radii of the hard chined hulls. We can supply complete kits for Laughing Loon kayaks with 3/16″ strips as Rob Macks suggests (see below).
Mold Forms for kayaks are $300 when purchased by themselves (not with the kit). All of the kit prices below now include forms and Plans. All forms now include the Clamping Grooves for Stapleless Construction.
Check the Kayak Accessories to see if you would like to upgrade to the KajakSport Ergo seat and backband. If you'd like to simply purchase plans, you can visit our Plans page. If you would like to purchase a Pre-Kit, please click on the price under the Pre-Kit column. For purchasing a full Kit we request that you call us at (603) 744-6872. For any questions you may have, feel free to e-mail us at info@newfound.com.
---
*Laughing Loon kits include plans, but if you already have them the cost can be deducted from the total kit cost.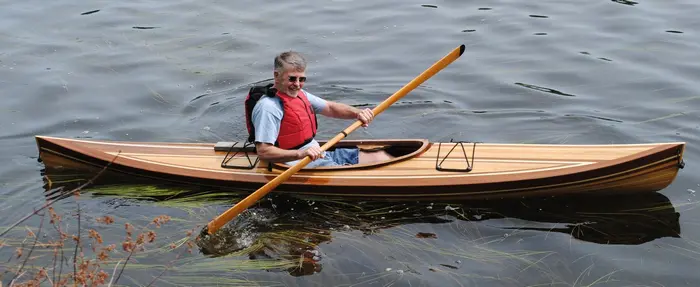 The Excursion is a beautiful, lightweight kayak designed to be used in a recreational setting such as day trips on inland lakes and quiet water. It is a stable, predictable handing kayak suitable for all ages and abilities. The large cockpit opening provides a great deal of comfort when left open, but can also accept our largest spray skirt for paddling in foul weather or sheltered ocean coves. This kit can also be modified to have a smaller cockpit opening and includes fore and aft bulkheads.
Read More