Length
15'11"
---
Beam
21-5/8"
---
Weight
35-42 lbs.
---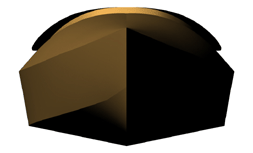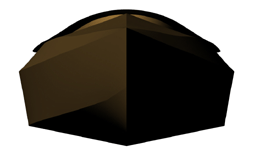 The Explorer is a smooth and sleek touring kayak. It is a slightly shorter, narrower version of the Navigator. The Explorer performs well in windy conditions, moving easily through the waves and chop. It offers great stability at rest and while leaning and tracks well in all types of weather. Symmetrical in design and predictable in performance, it also has enough storage space for picnicking and day tripping.
This kayak will work nicely for 130-175 lb paddlers on trips with gear or for 175-225 lb paddlers for day trips. Overall weight of the finished kayak will be 35-42 lbs.
Read Bob Larkin's write up for a customer's viewpoint of the Hybrid Construction process.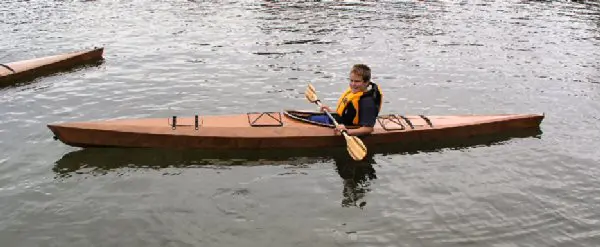 ---
What is the Hybrid Construction Method?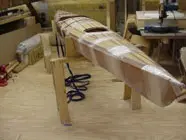 The hybrid construction method means that you are building a woodstrip deck and a plywood, stitch and glue hull. This method allows you to have the beauty of strips for the deck and the level of creativity that you can achieve using strips. The plywood hull lends itself nicely to the Greenland, hard chined design, can be assembled quickly and uses fewer parts. Therefore the Hybrid is less time consuming to construct and somewhat less expensive than an all woodstrip kayak..
What is a Hybrid Kit?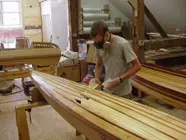 The 4mm Okoume Plywood hull panels and bulkheads come with pre-drilled wire holes and key lock butt joints saving you valuable time and providing accuracy in the assembly process. You also receive cove and bead cedar strips for the deck, temporary forms, epoxy with application supplies, copper wire, deckline hardware, mini-cell seat foam, hatch hardware and seal, adjustable footbraces, fiberglass, and pre-cut plywood coaming ring and build-up.
SnG Kit Prices • Hybrid Kit Prices
---

What is Strip Building?
Strip-built, cedar-strip, cedar strip/epoxy, or wood strip all refer to the same technique for building a boat. Thin strips of wood are edge glued together around temporary forms, faired (smoothed over), and covered inside and out with epoxy and fiberglass cloth.
Add a header to begin generating the table of contents