Canoe, Kayak and Row Boat Plans
Listed below are the different canoe, kayak, and rowing boat plans we offer. Here you can purchase plans for the boat you plan on building. If you would like to buy a kit (or a pre-kit) you can visit here.
To order your plans simply click on the price which will bring you to our secure online shopping cart. Note that plans can NOT be returned, so be sure of what design you want before you order.
All of the standard plans include full sized drawings (as shown below) of the forms, with the exception of the Traveler and Rowing Crafts. For the Traveler canoe and rowboat designs, you will need to mirror the shapes from the centerline out on the standard set of plans. If you want individual full-sized form outline (as shown below) instead of mirrored drawings for the rowboat designs and Traveler canoe, such that you would simply contact cement to MDF, choose the Full Size Plans price of $160.
The kayak plans include full sized drawings that you would contact cement to MDF and cut out. All of the kayak strip designs are set up for 2" x 4" internal strongback.
To review the specifications in detail, click on the NAME of the design and it will take you to that design page.
---
All of the canoe plans below include full sized multiple drawing sheets that you can contact cement to 1/2" MDF and then cut to the lines. You no longer will need to 'mirror' the form image.  (Exception: Traveler) See the sample drawing of a couple of forms.
Note that some designs cost more because they are tandem canoes and/or are assymetrical, requiring more drawing sheets.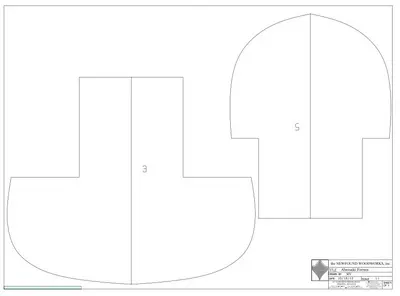 We do not provide plans for Stitch n Glue or Hybrid kayaks because we believe that it just doesn't make sense for a builder to cut the panels, glue them to length, drill holes, and bevel them at home when we can provide pre-cut panels with locking butt joints, wire holes drilled, and interior edges beveled. We have done the hard work for you!  We are the ONLY kit company that provides these refinements in our plywood kits.  Plus, we were the FIRST company to build and provide Hybrid kayak kits!
Description
Plans with Construction Notes by Newfound Woodworks