16′ 2″ Adirondack Guideboat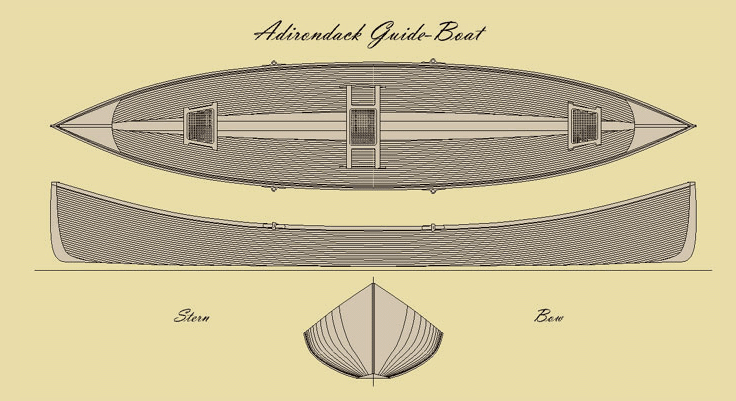 KIT SPECIFICATIONS
Length (LOA)
16'2"
---
Length (LWL)
15.40'
---
Beam (BOA)
37.00"
---
Beam (BWL)
30.50"
---
Weight
70 lbs.
---
Displacement (Capacity)
480 lbs
---
Draft (at Capacity)
5.50"
---
Center Depth
12.00"
---
Depth at Bow
25.25"
---
Adirondack Guideboats were developed by several different builders in the Adirondack region of upper New York state during the late 1800's when the area was a popular summer retreat for affluent residents of New York and Philadelphia. The vacationers would hire a guide to take them out fishing and hunting. The guide needed a fast, lightweight boat that would transport him and his customer quickly across lakes and could be easily carried over land so they could get to the prime fishing spots and back in time for a fine dinner at the hotel. These Guideboats were built on spruce ribs cut from the natural crooks of spruce roots. Strip-built construction is a logical modern alternative choice to the planked and ribbed original construction.
"No doubt Dwight Grant would have grabbed at epoxy and other modern materials to cut weight," says Kenneth Durant, author of The Adirondack Guideboat. Strip-building is an excellent way to easily build a light, strong and beautiful Guideboat. The guide-boat was a fast, light, oared boat pointed at both ends – a cross between a rowboat and a canoe. "It was big enough for the guide and his customers but light enough for the guide to take on his own over the many 'carries' between lakes," wrote Kenneth and Helen Durant, authors of The Adirondack Guide-Boat. Our Guideboat design is derived from the Cole's Guideboat, 16'2″ long with a 38″ beam.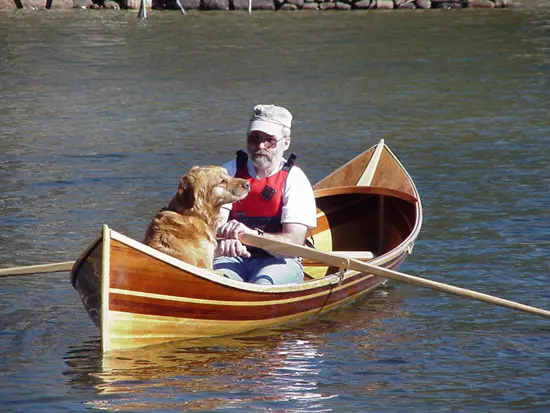 ---
About Our Kits
All of our kits are created as we get orders. Please email us (info@newfound.com) with your name, address, telephone number, and shipping address (if different) and we will email a quote that includes packaging and shipping costs. A "kit" can include everything or just certain items. If you just want strips, email us with the pertinent name and address, the design you are building and we will email a quote. We mill all of our strips here at our facility in New Hampshire to the highest standards after air drying the cedar. If you pick up at our shop, of course there is no shipping charge. We will shrink wrap your materials so that they are impervious to the weather. A kit can be picked up with a vehicle that you would normally use to transport your canoe or kayak.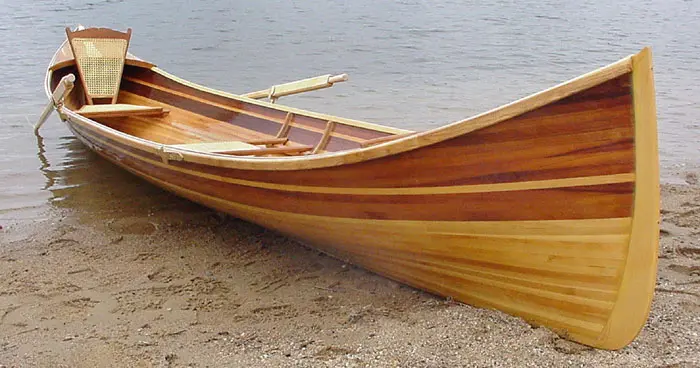 The Rowboat Pre-Kit Includes:
"Woodstrip Rowing Craft" by Susan Van Leuven, "Cedar Strip Boat Building" DVD, "Applying Fiberglass and Epoxy " DVD, and Strip Building Notes. This informational package is intended to give you a variety of instructional and reference materials that you will need to build a boat and is an especially good primer if you have never built with cedar strips and fiberglass. You can get the Pre-Kit first and then decide on a specific rowboat design.
The Adirondack Guideboat Kit Includes:
Plans, Construction Notes, a CD of rowboat construction pictures, Coved and Beaded 6′ to 10′ Northern White Cedar Strips, About 30% Full Length Western Red Cedar Strips, Solid, pre-milled Mahogany Outwales, Scuppered Mahogany Inwales, Spanish Cedar Thwarts and Stern fan seat parts, Seat Hardware, Ash/Spanish cedar Stem Laminations, Deck Material with pre-formed coaming, oar blocks, Spanish Cedar transom materials, Fiberglass, Slow Cure, Low Viscosity, Non-Blushing Epoxy, Epoxy Application Supplies, and Varnish. CNC cut mold Forms for rowboats are NOW INCLUDED IN THE KIT PRICES. All mold forms now include Clamping Grooves for Stapleless Construction.
If you have built a strip boat before and are confident in your skills, you could build the complete boat from the kit package without purchasing the Pre-Kit.
E-mail us with your complete address and the design you are interested in and we will quote shipping and packaging costs.
---
Pre-Kits
If you haven't built a stripper before and aren't sure about the process, you may want to get a Pre-Kit first. This includes our "Cedar Strip Building" DVD, "Applying Epoxy and Fiberglass" DVD, and Susan Van Leuven's book, "Wood Strip Rowing Craft".
Add a header to begin generating the table of contents