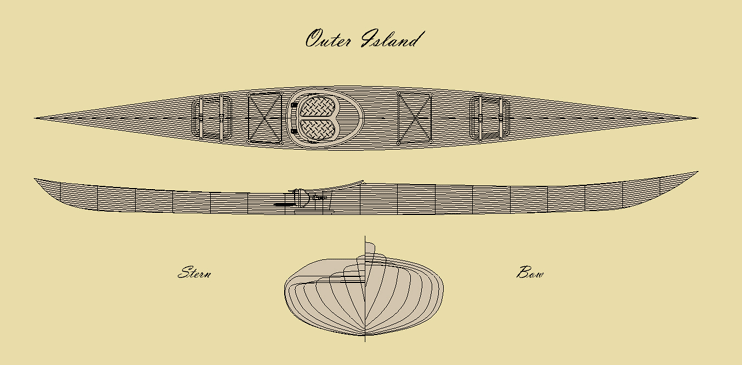 | | |
| --- | --- |
| Length (LOA) | 17.9′ |
| Length (LWL) | 16.30″ |
| Beam (BOA) | 21″ |
| Beam (BWL) | 20.50″ |
| Weight | 45 lbs. |
| Displacement (Capacity) | 275 lbs |
| Draft (at Capacity) | 4.00″ |
| Foredeck Depth | 11.00″ |
| Depth at Bow | 14.00″ |
The Outer Island is a low volume kayak following the West Greenland lines. The kayak is designed for intermediate and advanced paddlers with its 21 inch beam – yet it is quite stable – comparable to many boats in the intermediate level. It's quite fast with a stronger tracking characteristic yet plenty maneuverable for sea touring, playing in waves and winding along rocky shores. The boat is extremely forgiving because of its strong secondary stability and low volume. It rolls easily and will lay on its side with very little sculling effort. Paddlers who know the technique can easily balance brace it! These characteristics were well thought out in advance and incorporated in to the hull shape – a major criteria of the designer. Paddlers who like to play in their boats will fully appreciate its forgiving traits.
The kayak maintains its low lines yet will comfortably handle 6′ 3″ paddlers with plenty of foot room and will not force you into a straight leg position. It's 7″ rear deck height behind the seat allows for ease of leaning back when rolling. It's extended length of 17′ 9+" increases speed and achieves its long low looks. A length over this is only needed for loading in a lot of weight or narrowing the beam and not having the kayak sink too deep. You can do any kind of extended trip with this boat that the Greenland Eskimos did.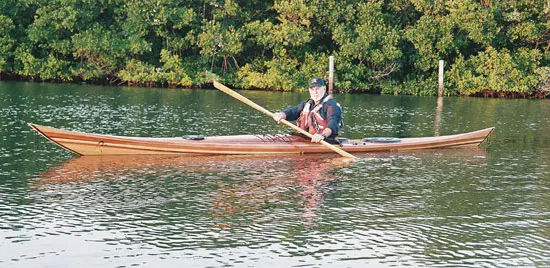 ---
About Our Kits
All of our kits are created as we get orders. Please email us (info@newfound.com) with your name, address, telephone number, and shipping address (if different) and we will email a quote that includes packaging and shipping costs. A "kit" can include everything or just certain items. If you just want strips, email us with the pertinent name and address, the design you are building and we will email a quote. We mill all of our strips here at our facility in New Hampshire to the highest standards after air drying the cedar. If you pick up at our shop, of course there is no shipping charge. We will shrink wrap your materials so that they are impervious to the weather. A kit can be picked up with a vehicle that you would normally use to transport your canoe or kayak.
The Outer Island Kit Includes:
Plans, Construction Notes, a CD of construction pictures, CNC cut forms with box-beam strongback system, cedar strips, stem materials, sheer clamps, coaming ring, seat/backband, footbraces, deckline material, bulkheads, fiberglass, epoxy, application supplies, and varnish.
All mold forms now include Clamping Grooves for Stapleless Construction.
E-mail us with your complete address and the design you are interested in and we will quote shipping and packaging costs.
---
Pre-Kits
If you haven't built a stripper before and aren't sure about the process, you may want to get a Pre-Kit first. This includes our "Cedar Strip Building" DVD, "Applying Fiberglassing" DVD, and our own instructional "Kayak Stripbuilding Booklet".
Add a header to begin generating the table of contents