What our customers have to say:
What our customers have to say:
Robert Jaques on Facebook:
"We purchased and built the Abenaki canoe kit. It's the greatest kit we have ever seen! The kit has everything you need to build a beautiful canoe. We never built a boat before, but with their help it went smooth. We highly recommend Newfound Woodworks! Thanks for answering all my questions!!!!!!!!!!!!" 5/31/22
---
David Diotalevi wrote on Facebook:
"If you're interested in building a boat you can't go wrong with Newfound Woodworks! They are so helpful, and always there if you have questions! I'm looking forward to my next build! My cat loves the canoe. We named it after her "Miss Jessie". Today was the official launch, Jessie loved it!" 4/23/2022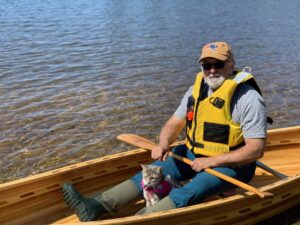 ---
Gregg MacMillan on Facebook:
"Picked up my Kruger kit recently from FedEx freight and was really impressed with how well made the crates were. I was even more impressed when I opened them and saw how well everything was packaged. Everything inside also reflects the care and pride in workmanship that went into the entire production process. Can't wait to get started." 2/20/2022
---
Vern Berry
"Purchased a Lawton Tender kit from Newfound and over a couple summers constructed the boat until it's finish in October 2021 – the kit had all I needed to complete the boat and I enjoyed regular inputs from the folks at Newfound when I needed guidance and encouragement – this was my first wooden boat but not my last. I look forward to the purchase of another kit to continue my education in boatbuilding. Thanks to Alan and Rose for their patience and expertise which was valuable in completing my project. My boat was launched 10/30/2021 to the complements of many who appreciated the beauty for the cedar wood stripped boat. Thanks again and looking forward to the next wood boat project!" 10/16/22
---
Philip Kissinger wrote on Google:
"I went with Newfound to build my strip canoe. All the help that I needed was provided. I built an Abenaki but shortened it just enough so that I could use 16' strips without splicing. I ordered yoke thwart, cane seats and decks from them. Everything was high quality. When I tried the decks they didn't fit because of my length alteration. I called and explained my predicament and they cut new decks and shipped them to me immediately while I packaged and shipped the decks I had back to them so they crossed in the mail. Great people to work with and high quality milled parts and materials. Prices are reasonable too. Highly recommended them".
---
James Turk wrote on Google:
"The kit supplied for my canoe was excellent in every way. The millwork was perfect and the quality of the strips was first rate. The strongback was as straight as a die. The tools, etc. supplied with the kit were of the very highest quality. It is obvious that this company and the people in it do not compromise on quality; what a joy in this day and age."
---
Willy Rouse wrote on Facebook:
"Newfound Woodworks is an absolutely fantastic company. After talking with Rose (one of the owners) for hours, and barraging her with endless questions (which she answered happily and tirelessly,) I decided to buy a canoe building kit. It arrived right on schedule and was everything I had hoped for. Over the course of my then-month build, I emailed and called Rose at least a dozen times with questions. Each time she responded right away and provided expert advice. It is apparent that she truly cares about her customers. I cannot recommend this company enough! Thank you Rose!!!"
---
William Kracke wrote on Google:
"Excellent resource for materials to build wood strip kayaks and boats. Will provide advise for you project and material needs."
---
Stephen Loosigian wrote on Google:
"i really enjoined buying my first boat kit here. because they are such a small company they will show you every step in building your boat if you so wish. detailed instruction is available in the form of video for a very reasonable price. as well as tons of text that comes free with our purchase of any kit. if you are looking to by a wooden boat kit here is the place to do it."
---
Pat Taylor posted on Facebook:
"Love this place! We have built 18 of their boats and are working on #19. They supply top quality materials and are always available to answer questions and give guidance!
Michael was a great mentor and Alan and Rose are doing a wonderful job filling his shoes!"
---
Diane Dougherty posted on Facebook:
"I purchased a kit for a 17 foot Nipmuck canoe last year, The quality of the kit was really so much more than I expected. I called several times with questions and Alan and Rose will patiently answer all your questions, this was very helpful during the build. I would highly recommend buying a kit from Newfound Woodworks, you will have a finished product you will treasure for years to come. The workmanship of this kit was amazing and I could not be happier with my almost completed canoe."
---
Winston Reed
"I continue to receive many compliments about my Lawton Tender: 'Man, what a beautiful boat!', 'I like your boat!', That's a very cute Tender!'… THE LIST OF COMPLIMENTS IS ALMOST ENDLESS!
Would you please let the designer of the Lawton Tender know about the above remarks so that she/he receives the positive, real world feedback they richly deserve! Thank you!"
---
Bill O'Brien on Google:
"Best boat kit supply ! Great products, support and service."
---
Gerald Packard posted on Facebook:
"I've purchased their video's and a number of tools and supplies from them. Everything is first class. The video's are worth their weight in gold."
---
Paul Rondeau posted on Facebook:
"The kits are excellent! The people are fantastic! Highly recommend.
My Abenaki on Newfound Lake today"
---
Glenn Goldfarb
"These forms are gorgeous! Too pretty to be just forms. And the shipping box itself should be something quite pr4ctical, too! It took me a moment to understand the recess that runs along the edge of the forms and then, voila, it came to me… clamp edges for the stapleless builder! You're tempting me to go without staples at this time!"
---
Dennis Yeomans
"Building the LIZ was everything I hoped for! An enjoyable and satisfying building press (yoyou helped a lot) and extreme satisfaction and pride in the finished product!"
---
Jason Briand posted on Facebook:
"fantastic people, and such a great product."
---
Patrick Perkins posted on Facebook:
"I really enjoyed the workshop held on the weekend of July 20/21, 2019. Lots of fun and so great to be with Rose and Alan and learn from the experts. Highly recommend the weekend workshop!!"
---
Robert E. Askin posted on Facebook:
"Spent a great weekend at NewFound Woodworks strip building workshop! Excellent presentations and hands-on practice for some of the trickier tasks for building a stripper. Thanks, Rose and Alan!"
---
Steven Blase posted on Facebook:
"Al and Rose are ultra-professional folks who want to see their customers succeed with building the boat of their dreams. I have built two boats from Newfound Woodworks' kits and plan to build many more in the future. Every time I see Al and/or Rose they are very helpful and accommodating."
---
Robert S Parizo posted on Facebook:
"Great people, workmanship, product!"
---
Brent Hoover posted on Facebook:
"I had the pleasure of working at Newfound Woodworks years ago and have missed it ever since. If craftsmanship and great service, is what your looking for… this is the place!"
---