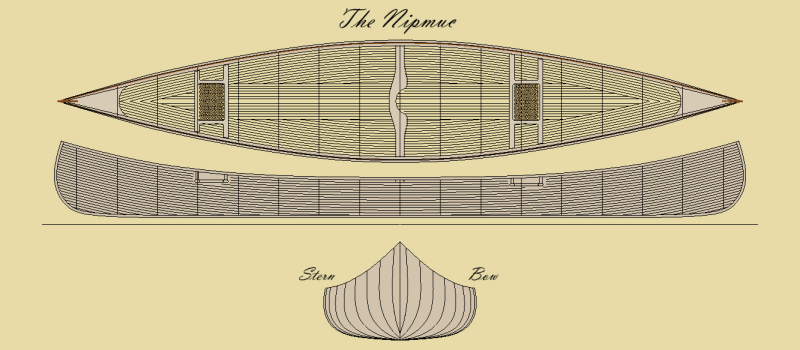 Length
17'1"
---
Beam (BOA)
35.50"
---
Beam (BWL)
33.80"
---
Weight
62 lbs.
---
Displacement (Capacity)
550 lbs
---
Draft (at Capacity)
4.95"
---
Center Depth
12.00"
---
Depth at Bow
21.50"
---
Rocker
1.25"
We named the Nipmuc and Abenaki in honor of the Native Americans who once paddled and fished the inland waters of southern New England. They are loosely based on old Maine canoe designs with traditional re-curved stems and slightly flatter bottoms than the old designs originating in Canada for greater initial stability. One can imagine these canoes packed with a week's gear for the ultimate paddling adventure.
Formerly named the Abenaki 17′, the Nipmuc has better straight line tracking, while the Abenaki features more rocker, making it more maneuverable. Both canoes are fairly beamy with a large capacity and good stability.
---
---
About Our Kits
All of our kits are created as we get orders. Please email us (info@newfound.com) with your name, address, telephone number, and shipping address (if different) and we will email a quote that includes packaging and shipping costs. A "kit" can include everything or just certain items. If you just want strips, email us with the pertinent name and address, the design you are building and we will email a quote. We mill all of our strips here at our facility in New Hampshire to the highest standards after air drying the cedar. If you pick up at our shop, of course there is no shipping charge. We will shrink wrap your materials so that they are impervious to the weather. A kit can be picked up with a vehicle that you would normally use to transport your canoe or kayak.
---
Pre-Kits
If you haven't built a stripper before and aren't sure about the process, you may want to get a Pre-Kit first. This includes "Cedar Strip Building" DVD, "Applying Fiberglassing" DVD, and Susan Van Leuven's book, "The Illustrated Guide to Wood Strip Canoe Building".
Add a header to begin generating the table of contents