Newfound Rendezvous Returns!
Newfound Rendezvous Returns!
Wellington State Park at Beautiful Newfound Lake, Bristol, NH
September 10, 2022, 10 am – 5 pm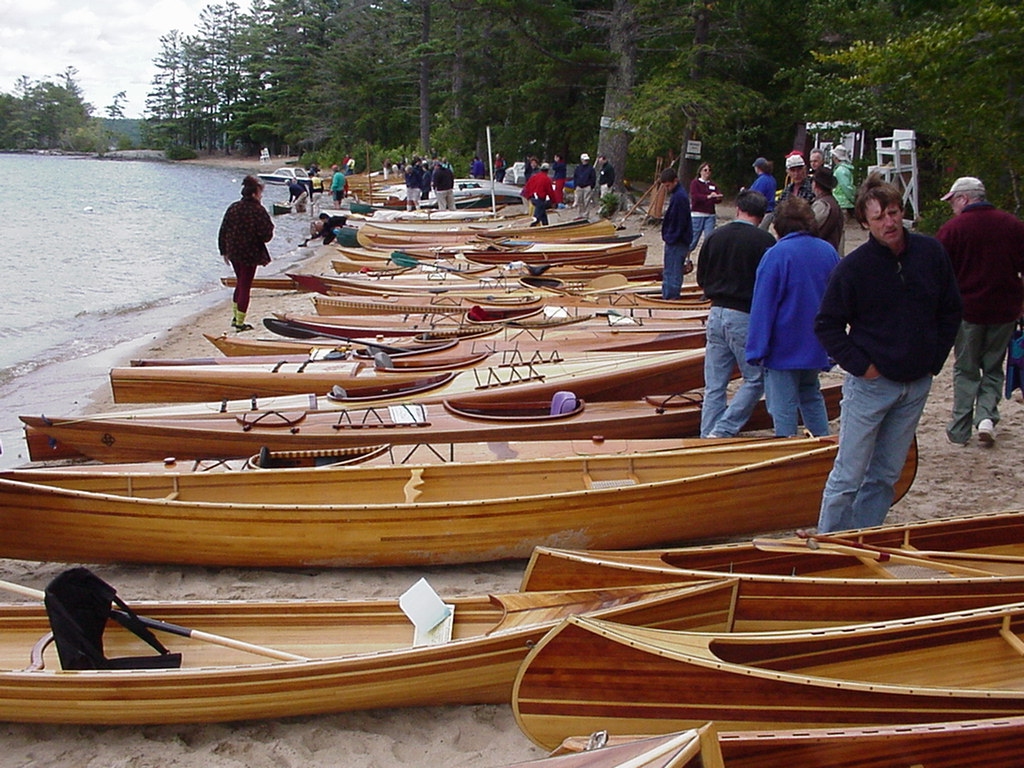 Welcome to the 11th Newfound Rendezvous!
Looking for a place to visit with other Cedar Strip Boat enthusiasts? This is it!
Bring your Stripper!
This is a gathering of canoe, kayak, and row boat enthusiasts sponsored by Newfound Woodworks, Inc.
The last Rendezvous more than 400 people brought 150 boats on Saturday.
Many attendees have built strippers and will have them there. Others will be there to learn low impact boating, which these strippers exemplify. Also, attendees will discover how to build these boats, see the boats in action, research their next project, learn safe use techniques.
Most of the people who have built these boats haven't seen others, let alone a hundred or more examples of different designs, each with the builder's own artistic flare incorporated into the process. This isn't a beauty show; there aren't judges or prizes for best-built canoe, kayak or rowing craft. On the other hand, there are some creations that stand out from the crowd.
---
This year we wish to recognize the New Hampshire Department of Natural and Cultural Resources, Division of Parks and Recreation as the host site for this event.
---
Location: Wellington State Park on West Shore Road on the west side of Newfound Lake in the town of Bristol, NH. The park has a huge sheltered beach, picnic tables, parking, and hiking trails. Newfound Lake is clean and clear; you should be able to watch fish swimming when you practice your Eskimo rolls.
The size and layout of Wellington State Park will allow us to have building demonstrations under canopies that are erected near the beach area and water activities right nearby. This should make it easier for attendees to be able to take in as much as possible.
---
Newfound Lake is a very clear lake fed by 8 springs in the geographical center of New Hampshire and central to the Lakes Region. It stretches for about 7 miles south to north with 22 miles of shoreline in the towns of Bristol, Alexandria, Hebron, and Bridgewater. Total lake area is 4106 acres derived from 61253 acres of watershed; greatest depth is 183 feet. Newfound Lake is known for great fishing, specifically Lake Trout, Salmon and Perch. The Newfound River is a renowned fly-fishing attraction. The surrounding mountains are predominantly forested with great hiking trails to mountaintop views, the highest being Mt. Cardigan a few miles to the west. Newfound Lake is one of the cleanest in the world.
---
We are planning the Demonstrations, and will be adding regularly!
So, keep an eye to see what is added!
What are we doing:
Friday: 1pm to 5pm – Feel free to stop in the shop for a visit!
Saturday: 10 am to 5pm ~ Fun fill day!
A boat show on the beach with many handcrafted vessels, including gorgeous wooden boats made throughout the country. (Not judged.)
Cedar Strip Construction Demo by Newfound Woodworks
Fiberglassing Demonstration by Newfound Woodworks
Varnish Demonstration ~ Presentation by Jason of Epifanes
Safety & Rescue Techniques with Mike, Paul & Mark
Kayak Rolling with Mike, Paul & Mark
Safe Paddling Item Checklist with Mike, Paul & Mark
Sailing with Clint Chase
Raffle – Newfound Woodworks items
Kayak Raffle sign up benefiting Habitat for Humanity Cape Cod
And more!
Sunday: We will gather at 10 am for a paddle at Grey Rocks, on the northern side of Newfound Lake!
At 5:00 we will draw the winning raffle tickets for the Rendezvous Raffle.
We plan to have the annual "Paddle By". We hope to have a hundred boats in the water at once!
---
To see past Newfound Rendezvous, visit newfoundrendezvous.org
Accommodations:
You can find a list of campgrounds, inns, motels, bed & breakfasts, and rentals that may be available for the event. You will want to make firm reservations at one of these places right away or if you know of a place to stay in the area you will want to make contact soon. It is up to you to find a place to stay; we will provide the venue, organize the event. We have other events competing for facilities on that weekend: Wait till these people see all the strippers infiltrating the area!
---
Wellington State Park is located on the west side of Newfound Lake at the northern-most point of the town of Bristol. The 1000 foot beach at Wellington faces north and is sheltered from weather by a peninsula and island on its east side. Belle Island is part of Wellington and the peninsula boasts a great nature trail. There is a boat launching area attached to Wellington that is open so the public can have access to the lake. There is also a marked hiking trail to the forested hilltops on the west side of Newfound Lake. There is a State Park entrance fee upon arrival.
State Park Rules: PFD's Must Be Worn. Sorry, absolutely NO DOGS OR OTHER PETS are allowed at the beach area or in the park. Please visit nhstateparks.org for more information.
---
Each attendee needs to register individually
---
CONTACT INFORMATION:
Newfound Woodworks
67 Danforth Brook Rd.
Bristol, NH 03222
603-744-6872
Note: We will be posting more information on Demonstrations and activities, so check back every so often.